For those of you who dread the cost of new RC batteries, or those who are analyzing their ratio of flight time as it pertains to battery size, voltage and capacity then this post may be right down your alley. After building my Cinematic 7 inch BangGod FPV I struggled to find a happy medium. While the frame is by all means generous for battery space the encroachment of propellers as the battery footprint increases becomes more problematic. I think I may have a solution.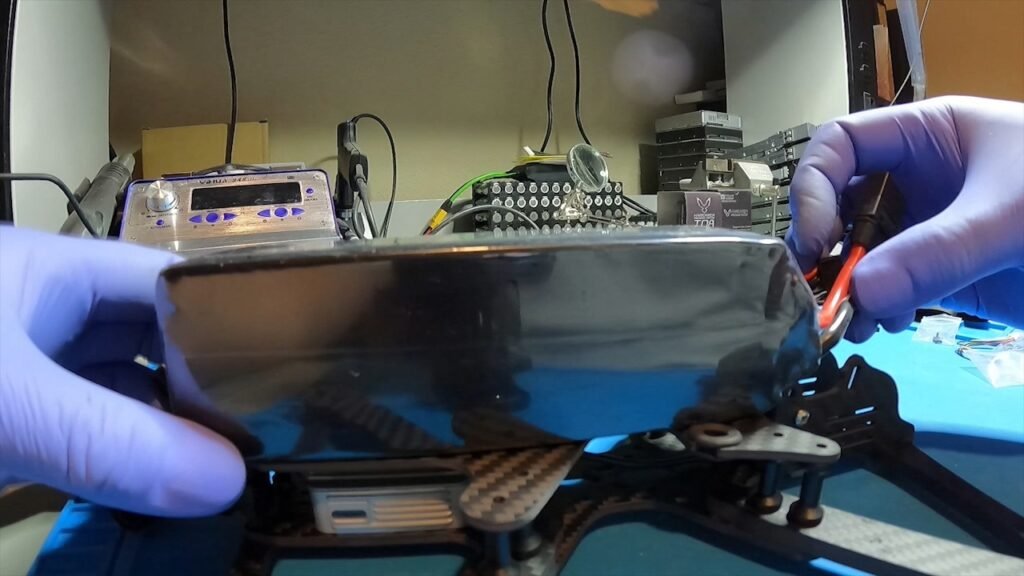 Let's start at the beginning. I built a new FPV, bought a shiny new flashy battery (in walks the Lumenier Cinelifter Series 22.2v 6S 4500mAh battery) and make no mistake; the power and flight time are admirable. But then as you look closer (not that you really need to given the sheer magnitude as it rests atop the FPV top plate) you start to ask yourself how much weight have I added and how is that affecting my flight time? This lovely battery weighs in at a whopping 1 lb. 10.1 oz (739g). Take into consideration that as a 7 inch FPV the complete BangGod minus battery weighs in at 1lb 7.1 oz (654g). Almost depressing right? Being the resourceful person I am I thought… build my own, leveraging the popular 18650 model batteries. Why not, says he.
Leveraging quality, like rated 18650 cells and using 18650 cell holders and a reliable Daly 6S Battery Management System we are left with a DIY battery with the dimensions of 145mm x 72mm x 45mm. The advantage is that at a 72mm or 45mm base you can roll the battery to make more space for the props. Additionally, desptite the added mAh the wieght is dropped to 1 lb 7.6 oz (660g). And for a moment life seemed good. Unfortunately, I have never been good at ignoring that nagging feeling in the back of my head.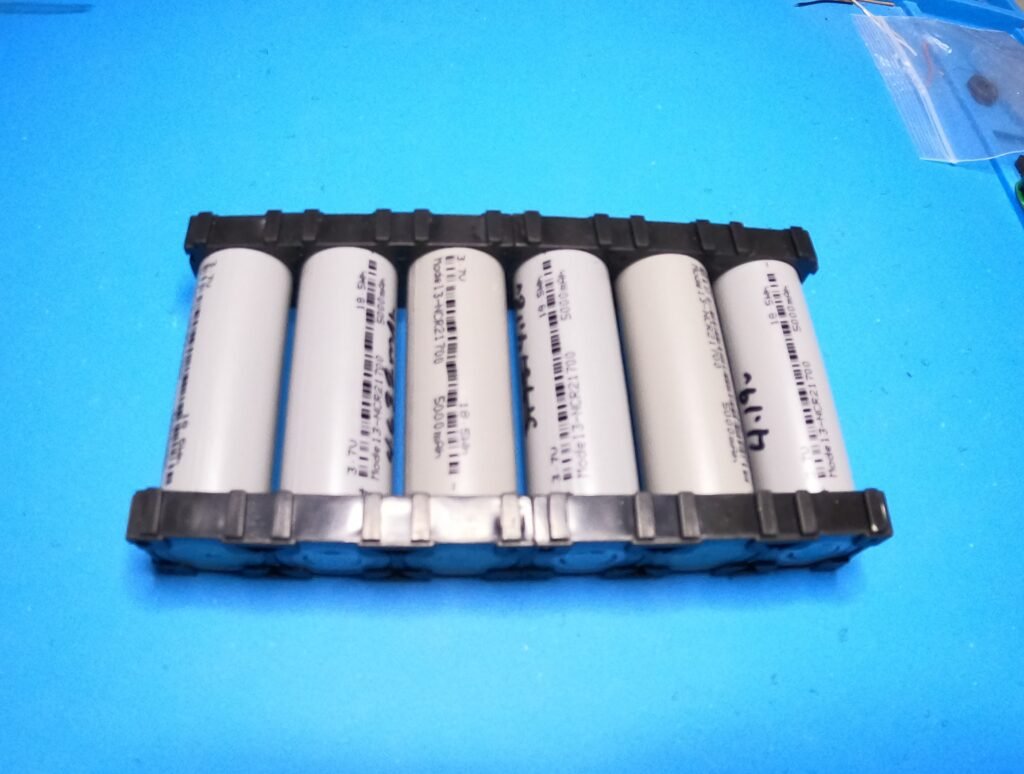 I observed implementations of Model 3 21700 batteries for Solar projects and they had proven quite effective. While the battery dimensions were slightly bigger the mAh gain was significantly better. Unfortunately the bigger format meant a larger footprint for a flat seating 6S1P battery. With unwrapped dimensions of 138mm x 72mm x 24.5mm, a comfortable 4700mAh capacity and a inspiring 15.4 oz (436g) weight before fabrication and an estimated 1 lb 5 oz (595g) wrapped weight I finally had a formidable battery solution. It spawned the next idea of a 6S2P version (for maybe a second) and then I shuddered to think about the weight this would invite. The only issue remaining with this implementation was the top plate footprint and the close proximity to the props. But I was on to something…
Custom DIY Model 3 21700 22.2v 6S 4700mAh Battery version 2
After a bit of dabbling in FreeCAD I had negotiated the battery orientation for a 2 layer offset 6S1P battery option. All the benefits of the original design with the added advantage of dimensions achieving a 145mm x 47mm x 48mm footprint. No more concern of propeller strikes. This design in theory also appeared to reduce drag inefficiencies as it allowed the entire battery to nestle behind the angled GoPro Hero 9 Cinematic camera. While my FPV build design only leveraged the ability to support 3S-6S it made me wonder how much better a 29.6v 8S1P might fare for freestyle or even better for my purposes a 4S2P battery capable of 14.8v and an insane 9400mAh. It seemed more likely that my FPV goggles or controller batteries might be my next problem.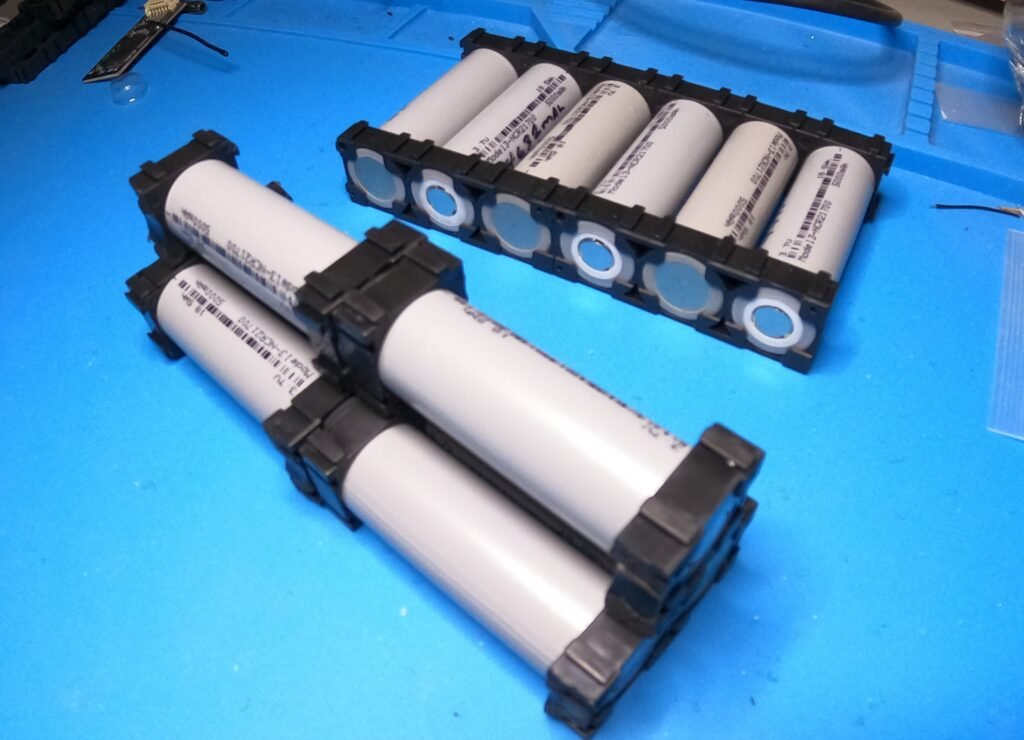 And that brings us to where I am today. For better or worse a triangular oriented 6S battery leveraging the 21700 cell holders with a bit of dremel work for good measure. If you look closely at the CAD drawings you will note a small folded Nickel strip joining the two groups together to continue the series connection. This would also lend itself well to a 11.1v 9400mAh 3S2P configuration offering what I suspect might be amazing flight times and reasonable speed while avoiding a folded nickel design.
To be clear, I have not started the build yet as I am still ironing out several details. But the end state will be a spot welded pure nickel strip, Kapton wrapped and temperature regulated BMS integrated battery, padded and finally wrapped. Normally, I prefer to utilize fused wire nickel strips offered at BatteryHookup.com but for the 21700 series I have yet to find a manufacturer for such a design. Even if I did, this triangular configuration would not lend itself well to that material. So for now I am still on the fence regarding a fused cell implementation (No fuse solution does not make me very comfortable). I will update this post as soon as I have some results to share. For now, I welcome your feedback or comments based on your experience.
This is Kevin with ThrownException.com saying thank you for taking time to read this Blog and keep looking for your next "enlightening" project.